#arduino
#beginner
#game
#qt
#qt3d
#rendering
---
Ardu-Tac-Toe
25 September 2018 - #game #arduino
---
A simple tic-tac-toe game developed for the Arduboy.
To make it more interesting, I focused on :
hand drawn dynamic graphic style
single player mode against CPU with 2 modes (easy/normal)
P.S.: normal CPU rarely makes mistake.
Screens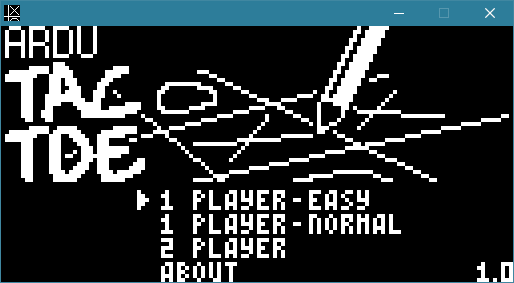 How to play
The game follows the rules of Tic-Tac-Toe: align three crosses or circles to win.
Use D-Pad (arrows on desktop) to move the pencil, and A/B to mark the board case. On desktop, you can quit using Escape key.
Downloads
Source
https://framagit.org/zeduckmaster/ardu-tac-toe
---
zeduckmaster
just another senior C++ developper


This work is licensed under a Creative Commons Attribution-ShareAlike 4.0 International License.